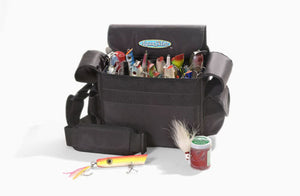 Aquaskinz Large Surf Lure Bag for Surf Casting
Aquaskinz Large Surf Lure Bag
This lure bag is the one you want when you need to carry more. It has become the bag that no serious angler can be without. It will carry everything you need; whether it is long trek to an isolated location, a far off exotic trip or simply a cache of lures and accessories stored in your car or boat.


High impact, quick-release buckle for security and ease of opening as well as a full Velcro hook and loop system for added security.
Two deep side pockets for storing your extra spools, grubs, other equipment or a 1-liter bottle of water.
Generous storage pocket under the main flap.
On the front wall, inside the bag are tall slots to store your bucktails and tins.
Stainless steel grommets for quick drainage on the bottom and on each outer pocket.
Bottom is protected against wear and tear by heavy-duty vulcanized rubber which is double re-enforced.
Two "D" rings on the back of the bag to keep it securely in place while wading, walking or jetty hopping.
2" wide, high density shoulder strap webbing that is secured to the bag using adjustable tri-glide connectors.
Fully adjustable strap with a shoulder pad for added comfort.
All the stress points are re-enforced for additional strength with saltwater grade, rot proof thread.
Clear, custom made 10 tube insert assembly of 8" tall by 2 ¼" square tubes allow for easy viewing with increased storage space (20% more compared to round tubes).
PVC based tubes are flexible, durable, light weight, worm proof and are built for strength and longevity.
Size : W 12" x D 5" x H 8 1/2"
---
We Also Recommend
---