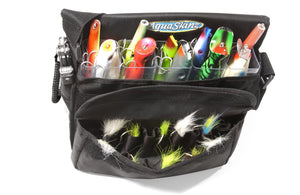 Aquaskinz Medium Fishing Lure Bag for Surf Casting
Aquaskinz Medium Fishing Lure Bag
The single row bag is the one fishermen all along the coast are talking about. It has become a staple in their arsenal for carrying their most wanted items. Very comfortable, offers ample storage space and is much lighter than the large lure bag.


A unique outer pocket with a separate closure to store more than 20 tins and bucktail jigs.
A side plier holder pocket with a lanyard attachment.
"D" rings on the back to attach to a wading belt.
High impact, quick-release buckle for security and ease of opening as well as a full Velcro hook and loop system for added security.
A separate inner storage pocket with grommets for quick drainage.
Stainless steel grommets on the bottom and outer pockets for drainage.
Heavy-duty vulcanized rubber which is double re-enforced to protect against bottom wear.
2" wide, high density shoulder strap webbing that is secured to the bag using tri-glide connectors.
Fully adjustable strap and shoulder pad for added comfort.
All the stress points are re-enforced for additional strength with saltwater grade, rot proof thread.
Clear, custom made 5 tube insert assembly of 8 ¼" tall by 2 ¼" square tubes allow for easy viewing with increased storage space (20% more compared to round tubes).
PVC based tubes are flexible, durable, light weight, worm proof and are built for strength and longevity.
Size : W 13" x D 4" x H 9 1/4"
---
We Also Recommend
---