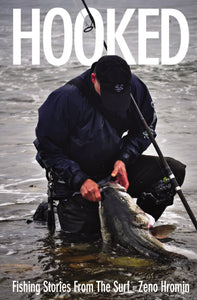 Hooked - Fishing Stories from the Surf by Zeno Hromin
"Hooked", Fishing Stories From The surf by Zeno Hromin

Zeno Hromin and is a veteran surfcaster whose love of the surf had humbled beginnings. From his days as a child hand lining on the coast of Croatia in the Adriatic Sea, to traveling east coast today looking to tangle with big feisty stripers, Zeno has shared his experiences on the Internet and in print.

He has written for many websites as well for Surfcaster's Journal, The fisherman and On The Water magazines. Zeno is a co-founder of the Surfcaster's Journal magazine, the only publication dedicated strictly to surf fishing.

As a member of high hills stipers club, one of the oldest surf fishing clubs in New York, Zeno has won numerous awards and club competition and in competing in the "New York Surf Fishing Contest." He is very conservation minded and releases almost all of his fish each season.

Zeno is a member of the "New York State Outdoor Writers Association" and he resides in with his family in Westbury, New York. He is the author of the Art of Surf Casting with Lures an+d The Hunt for Big Stripers.
---
We Also Recommend
---