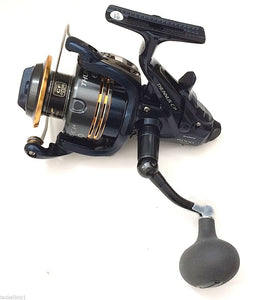 Shimano Thunnus CI4 TU-6000CI4 Spinning Reel
Shimano Thunnus 6000CI4 Spinning Reel
Lightweight and the power to stop big fish. Not a sentence you are used to hearing! Seemingly against the laws of nature. Thunnus takes a page from our Bicycle division using Carbon materials in high impact situations. Thunnus CI4 is a response to all the anglers out there in love with the ease of use and functionality that wanted the reel to shed some weight. Thunnus CI4 is up to 7 ounces lighter than its predecessor without sacrificing any power. Quite the opposite!! Due to new drag systems for the Main Drag and the Baitrunner drag Thunnus CI4 is the most efficient live bait spinning reel on the market with unmatched adjustability for fishing any bait in any condition as well as the smooth stopping power that this generation of Thunnus will be known for.
Features:
✔ Propulsion Line Management System
The most obvious component of the Propulsion Line Management System is the new Propulsion spool lip design. Through tens of thousands of casting tests and computer simulations it has been determined that this new spool lip design provides longer casting distances than a standard spool lip design while preventing backlashes and wind knots from forming.
✔ Super Stopper II
Super Stopper II anti-reverse uses a one-way roller bearing that eliminates back-play. This provides the angler with instant hook setting power.

✔ ARB
These stainless steel ball bearings are specially treated to drastically increase the corrosion resistance of the bearing. These bearings will last at least 10 times longer than standard stainless steel ball bearings in high salinity environments.

✔ Dyna-Balance
This feature eliminates wobble during the retrieve by counter balancing the rotor to enhance sensitivity and smoothness. By using computer balancing, an approach similar to car tire balancing, we are able to redistribute the rotor weight to create smooth rotation and eliminate vibrations.

✔ Fluidrive II
Building upon the successes of Fluidrive, Fluidrive II features a large master gear polished using a wrapping process, increasing the efficiency of the retrieve.

✔ SR-Concept
The SR-Concept combines the new concept of Reliance with all aspects of the S-Concept: Smooth, Silent and Strong. The Reliance Concept, or R-Concept, means that dreams in reel design are now evolving into reality. The result of the use of the new S-R Concept in design is the development of many exciting new features.

✔ Code: TU6000CI4 ✔ Line Retrieve Per Crank (in) 35 ✔ Mono Line Capacity (#Test/yd) 10/300,12/265,16/170,20/120 ✔ PowerPro Line Capacity (# Test/yd) 30/245,50/210,65/130         ✔ Max Drag (lb) 20 ✔ S-ARB Ball Bearings 6 ✔ Roller Bearing 1 ✔ Gear Ratio 4.8:1 ✔ Weight (oz) 18 ✔ Retrieve Reversible
---
We Also Recommend
---